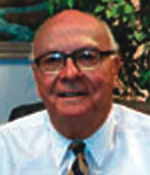 Maurice C. Fuerstenau (SME)
AIME Mineral Industry Education Award in 1989
"In recognition of his excellent teaching, motivation of young students, outstanding scholarly research and leadership in the mineral industry."
Maurice C. Fuerstenau is Echo Bay Mines Distinguished Professor at the University of Nevada, Reno. He holds a B.S. in Geological Engineering from the South Dakota School of Mines and Technology, and received his M.S. and Sc.D in Metallurgy from the Massachusetts Institute of Technology.
Following graduation from MIT, Dr. Fuerstenau accepted a position as a research engineer with the Beryllium Corporation and later as research metallurgist with the New Mexico Bureau of Mines. He then joined the Department of Metallurgical Engineering of the Colorado School of Mines and later the Department of Metallurgy of the University of Utah. In 1970, he joined the South Dakota School of Mines and Technology as Professor and Chairman of the Department of Metallurgical Engineering. His latest positions with this college were Distinguished Professor of Metallurgical Engineering and Interim Vice President.
A Distinguished Member of the Society of Mining Engineers. Dr. Fuerstenau served as Chairman of the Mineral Processing Division in 1975 and as President of the Society in 1982. He served on the AIME Board from 1981 to 1983. He is the recipient of the Robert H. Richards Award and the Antoine M. Gaudin and Arthur F. Taggart Awards.