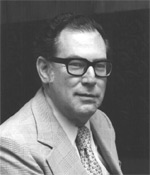 John C. Calhoun, Jr. (SPE)
AIME Mineral Industry Education Award in 1967
"Eminent petroleum engineer, educator, author and administrator whose unusual insight and drive sparked a revolution in petroleum engineering education through the application of science and continuation study."
Dr. John C. Calhoun Jr., consultant for the United States Department of Interior and staff officer of the Texas A&M University System, received his bachelor of science in petroleum engineering degree from The Pennsylvania State University in 1937. From 1937 to 1946, he was a research assistant and instructor at Pennsylvania State in the department of petroleum and natural gas while working part time on his masters and doctorate degrees which were finished in 1946.
Joining the University of Oklahoma as associate professor of petroleum engineering in 1946, he left as professor and chairman of the department in 1950 when he returned to Pennsylvania State to head the department of petroleum and natural gas. In 1955, he joined Texas A&M as dean of engineering, director of the engineering experiment station and director of the engineering extension service. His title was later changed to vice chancellor of engineering. In 1960, as vice president for development, he became a staff officer with overview responsibilities for all developing programs at A&M. A two year leave of absence was taken in 1963 to serve as science adviser to Secretary of Interior Udall. He returned to A&M and the new title of vice president of programs in 1965.