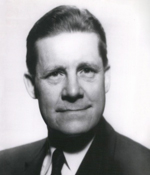 Eugene Paul Pfleider (SME)
AIME Mineral Industry Education Award in 1968
"Distinguished educator and accomplished engineer who pioneered university research and international symposia in mineral engineering in this country, and whose zeal for his profession has inspired a new breed of mining men, sparked a revival in academic curricula, and contributed to an emergent literature."
Eugene Paul Pfleider is a professor of mineral engineering at the University of Minnesota. He was visiting professor at Stanford University in 1958. From 1960 to 1963 he served as head of the School of Mines and Metallurgy at the University of Minnesota.
Professor Pfleider received his Engineer of Mines degree from Minnesota in 1932 and spent the succeeding years engaging in sulphur mining in Texas and Louisiana, tin mining in Bolivia, and manganese and nickel mining in Cuba. He was one of the pioneers in the development of lateritic nickel operations at Nicaro and Moa Bay.
At the University of Minnesota, Professor Pfleider teaches courses in the field of Mineral Economics, specializing in mine development, design and evaluation, and surface and underground mine· planning. Joining the University in 1948, he participated in the early development of Symposia, and has been active in cooperative programs between various mineral engineering schools.
Professor Pfleider is currently editor of the AIME Volume on Surface Mining and is chairman of the National Academy of Engineering Committee on Rapid Excavation.