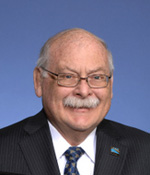 Dr. Christopher J. Bise (SME)
AIME Mineral Industry Education Award in 2011
Dr. Bise's career epitomizes that of an academic leader by combining practical mining experience with dedication to excellence in teaching, research, and service.
Christopher J. Bise is a professor and program chair of the Mining Engineering and Industrial Health and Safety programs at The Pennsylvania State University. He also holds the endowed George H. Jr. and Anne B. Deike chair in Mining Engineering. He created the undergraduate major in Industrial Health and Safety in 1996.
Bise received three degrees in mining engineering: a B.S. from Virginia Tech, and an M.S. and Ph.D. from Penn State. He also received an M.H.S. in Environmental Health Engineering from the Johns Hopkins University in 1998. In addition to being a professional engineer in Pennsylvania and a certified mine safety professional, he is also a board certified forensic engineer. Bise worked as a mining engineer for Consolidation Coal in the underground coal mines of eastern Ohio. He has conducted research in mine design, miner training, accident prevention and hearing conservation.
Bise is a Distinguished Member of SME (2001) and the SME Pittsburgh Section (1994, former chair of the Coal Division (1996) and received SME's Ivan B. Rahn Education Award 2003. Additionally, he has received the Old Timers' Award for Excellence in Mining Engineering Education (1997), the PCMIA's Stephen McCann Award for Educational Excellence (1992), ISMSP's Al Geiser Safety Award (2003) and Virginia Tech's Distinguished Alumnus Award in Mining and Minerals Engineering (2000). He is the recipient of numerous teaching, advising and service awards at Penn State.