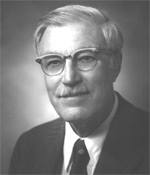 Donald L. Katz (SPE)
AIME Mineral Industry Education Award in 1970
"Eminent educator, author and engineer; pioneering and continuing contributor to the petroleum literature; instructor and counsellor to many who have risen to leadership within the petroleum industry."
Donald Laverne Katz is Alfred Holmes White University Professor of Chemical Engineering at the University of Michigan where he received his Ph.D. in 1933.
Dr. Katz has been an educator for more than 33 years. After three years with the Phillips Petroleum Company, he joined the faculty of the University of Michigan and has been there ever since. For more than ten years, he was chairman of the Chemical and Metallurgical Engineering Department. Under his supervision more than 37 doctorate students completed their theses, and since 1959 he has directed studies on the use of computers in engineering education.
In 1961, Dr. Katz was a member of the committee which organized the Commission on Engineering Education, serving as secretary-treasurer (1962-1964), and chairman of the committee on Engineering Design (1962- 1963). In 1963, he assisted the University of Brazil in inaugurating a graduate engineering program. He has authored more than 200 papers and co-authored several books.
A member of eight professional and technical societies, Dr. Katz has received many honors including: Distinguished Lecturer (1961-1962) and John Franklin Carll Award (1964), Society of Petroleum Engineers of AIME; Founders Award, AIChE (1964); Warren K. Lewis Award (1967) and Walker Award (1968), American Institute of Chemical Engineers; Distinguished Faculty Achievement Award, University of Michigan (1964); Hanlon Award, National Gasoline Association of America (1950); and Michigan Engineer of the Year (1959). In 1968, Dr. Katz was elected a member of the National Academy of Engineering.
During the past 33 years, Dr. Katz has also been active as a consulting engineer for more than 60 companies and governmental organizations. He was born near Jackson, Michigan.