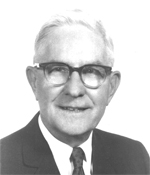 Charles E. Lawall
AIME Mineral Industry Education Award in 1958
"For his outstanding achievements as an engineering teacher and university administrator; and for his continuing interest in the problems of mineral engineering education during his years as Railroad Executive."
Charles E. Lawall, the second recipient of the Mineral Industry Education Award, was born in Catasauqua, Pa. in 1891. From Lehigh University, he received an E.M. in 1914, an M.S. in 1921, and an honorary LL.D. in 1939. He received the same honorary degree from Waynesburg College the same year. In 1950, he received a D.Sc. from Morris Harvey College.
Dr. Lawall began his professional career in 1914 as Testing Engineer in the Pittsburgh Testing Laboratory. Successively he was a Chemist with the N. ]. Zinc Co. in 1915-1916; Mining Engineer, Peal, Peacock & Kerr; in the Metallurgy Department of General Motors, Detroit; Mining Engineer and, later, Research Engineer in Bethlehem Steel Co.
He entered the educational field in 1921 as Instructor, Geology Department, Lehigh University. In that same year he was made Assistant Professor, West Virginia School of Mines, later becoming Professor and Director until 1938. In that year he became Acting President of West Virginia University and almost immediately thereafter, President, in which capacity he served until 1945.
Returning to the business world in 1945, Dr. Lawall was Engineer of Coal Properties, Chesapeake & Ohio Railway Co., until 1947 when he became successively Assistant to the VicePresident, Assistant to the President, and Vice-President, which office he still holds.
Dr. Lawall served in France in the 314th Infantry during World War I in 1918-1919. He has been a Member of AIME since 1914 and has rendered many important services on important committees. He was Chairman of the Coal Division in 1940 and' was a Director of the Institute from 1951-1953.
The Bituminous Coal Research Award was presented to Dr. Lawall in 1957. He is the author of many publications on education and the coal industry.