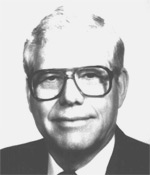 John M. Campbell, Sr. (SPE)
AIME Mineral Economics Award in 1989
"Who, through excellence in teaching, writing, and research, has advanced our knowledge of mineral economics and has made a substantial contribution towards expanding the engineering profession beyond the practice of technical expertise to the realm of economics."
John M. Campbell, Sr. began his career in 1943 with the Atomic Energy Project in Hanford. From 1946 to 1951 he was a member of the faculty at the University of Oklahoma. In 1951 he joined BS&B Inc. as Manager of the Process Equipment Division. Dr. Campbell returned to the University of Oklahoma in 1954 where he served as Distinguished Professor. Halliburton Professor, Director of the Petroleum Research Center, and Chairman of the Department of Petroleum Engineering. He left the university in 1968 to form the Campbell Group of Companies. which he sold in 1984 to do public service work and continue research and writing in management of money and applied economics areas. Currently he is co-author of a bi-monthly series in Petroleum Engineer on management of money. Dr. Campbell received his B.S. from Iowa State University and his M.S. and Ph.D. from the University of Oklahoma.
Dr. Campbell 1s the author of 138 technical articles and 14 books in the areas of production operations, phase behavior and properties, economics, analysis of risk and management of money. He has served on several SPE committees including seven years on the Education and Accreditation Committee, which he also chaired, and was an SPE Distinguished Lecturer. Dr. Leonard received the SPE John Franklin Carll Award in 1978, the Hanlon Award in 1987 and the Iowa State University Professional Achievement Award in 1988. He was named an SPE Distinguished Member in 1985.