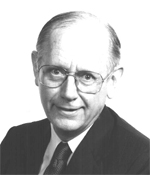 John Lohrenz (SPE)
AIME Mineral Economics Award in 1990
"In recognition of his outstanding professional contribution, through writings and seminars, to the understanding and application of hydrocarbon economics and evaluation techniques."
John Lohrenz joined the faculty of the Dept. of Petroleum Engineering and Geosciences at Louisiana Tech University in 1989 as Associate Professor and Coordinator of Research. after many years of professional experience in industry and government. He held previous research and engineering positions with Conoco, Gulf, and Chevron oil companies. With International Petrodata Inc., he was responsible for implementing computerized oil and gas well data systems in many parts of the world. Dr. Lohrenz received a Ph.D. in Chemical Engineering from Kansas University, an M.Ch.E. from Oklahoma University, and a B.S. in Chemical Engineering from Kansas State University.
Dr. Lohrenz was named a Distinguished Member by the Society of Petroleum Engineers in 1986. In 1989, he received the SPEJ. J. Arps Award. Dr. Lohrenz has authored over 100 technical publications. He was a Technical Editor for the Journal of Petroleum Technology for over five years and now is Review Chair. He is a charter member of the International Association for Energy Economics and active with The Institute for Management Sciences. He has been a registered Professional Engineer (Oklahoma) since 1966.