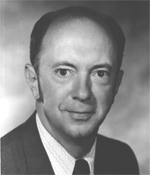 John J. Schanz, Jr.
AIME Mineral Economics Award in 1977
To recognize distinguished contributions to the advancement of mineral economics for leadership and research in energy and mineral affairs, and for training a generation of mineral economists.
John J. "Jack" Schanz, Jr. was born July 8, 1923, in Reading, PA, to John and Melina Schanz, Sr. Jack grew up in PA, living in Reading, Scranton, and Binghamton, NY, before moving to New York City to live with his grandparents.
Jack met Jean Mowrey while attending Wyomissing High School in Reading, PA, and they were married in the Bronx on June 4, 1944; the day before Jack's commission in the United States Air Corps. In 1941, at the start of WWII, Jack was a freshman at Penn State University studying earth science. In 1942, he joined the Army Enlisted Reserve Corps to train as a weather officer. In 1943, he left Penn State for Air Corps Cadet training at New York University, marking the start of a twenty-two year career, culminating in his retirement as a Lt. Col. in the United States Air Force. During World War II, Jack served in a number of active locations in the South Pacific.
Jack was an extensively published and highly respected expert in Mineral Economics. He earned Bachelor's and Master's degrees from Pennsylvania State University and received his PhD from Penn State in 1954. He continued a teaching career at Penn State as Professor of Mineral Economics and Associate Dean for Continuing Education. From 1967 to 1974, Jack took a position as a Senior Industrial Research Economist with the University of Denver Research Institute and served as Professor of Natural Resources at Denver University's College of Law. Jack was with Resources for the Future in Washington, D.C. 1974-1979, and finished his career as a Senior Specialist for the Congressional Research Service of the Library of Congress. He retired in 1988.
Following Jack's retirement, he served as an Adjunct Professor of Mineral Economics at the Colorado School of Mines. In 2006, Jack received the prestigious W. A. Vogely Award, presented by the Mineral Economics and Management Society, in recognition for his significant contributions to his field. Jack passed away February 27, 2010 at age 86 in Fort Collins, CO.