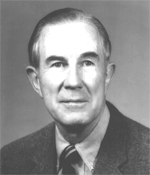 John Drew Ridge
AIME Mineral Economics Award in 1972
"In recognition of the unique contribution to mineral economics by the development, during his twenty years as Head of the Department of Mineral Economics of The Pennsylvania State University as a major and outstanding center for the training of mineral economists and the conduct of mineral economics research."
John Drew Ridge is a Professor of Economic Geology and Mineral Economics and Head of the Department of Mineral Economics at the Pennsylvania State University.
Dr. Ridge received his S.B., S.M. and Ph.D. degrees from the University of Chicago. Prior to joining the Pennsylvania State University faculty, he was employed by the U.S. Steel Corporation, the Cerro Corporation and the New Jersey Zinc Company. He entered teaching in 1947 as a member of the faculty of the College of Earth and Mineral Sciences at Pennsylvania State, and from 1953 to 1964 he also served as Assistant Dean for Resident Instruction. He was appointed Head of the Department of Mineral Economics in 1951.
Some of his many professional activities have included being Chairman of the AIME Council of Economics in 1962, Member of the National Academy of Sciences Panel on Mineral Economics from 1967-1969, Editor of "Ore Deposits of the United States" from 1933-1967, and Member of the National Research Council from 1968- 1971. He was honored as the AIME Henry Krumb Lecturer in 1971 and as the Warren Lecturer of the University of Minnesota in 1961.
Dr. Ridge was a National Academy of Science Exchange Scientist in Poland in 1969-1970 where he worked on a study of the genesis of the Silesian zinc-lead deposits. He is also Regional Councilor for North America of the International Association on the Genesis of Ore Deposits, and he has travelled extensively in connection with the revision of his Geological Society of America study on the ore deposits of the world. His areas of specialization include ore deposit genesis, geology of lead-zinc deposits, geology iron deposits, international trade in mineral materials, national mineral policy, economics of mineral exploration and legal aspects of exploration.
The Mineral Economics Award was established in 1965 and is given for distinguished contributions to the advancement of minerals economics.