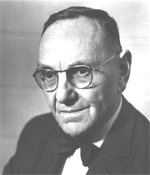 Elmer W. Pehrson
AIME Mineral Economics Award in 1970
"For contributions over many years to the international recognition of the profession of mineral economics and for the stimulus provided students and the profession through writings and speeches on United States mineral policy matters."
Elmer W. Pehrson earned his A.B. and E.M. degrees at Stanford University. In 1926 he entered government service in Washington, beginning as a valuation engineer for the Bureau of Internal Revenue. Successively, he held positions as assistant chief and chief, Metal Economics Branch, Bureau of Mines; chief, Mineral Economics Division; and regional director, Foreign Minerals.
In 1947, Mr. Pehrson became part-time Adjunct Professor of Mineral Economics at Columbia's School of Mines and assumed full-time duties in 1963. He retired in September, 1965.
Mr. Pehrson's 125 publications include chapters in several standard reference works. He directed preparations of the Minerals Yearbook for nine years, and in 1944, led an evaluation of the nation's mineral reserves by Bureau of Mines and U.S.G.S. personnel. The report was the first of its kind and was published by Congress in 1948. His 1945 AIME paper, "The Mineral Position of the United States," interpreted the results of the joint study, and in 1945, the Mining and Metallurgical Society of America published his recommendations for A Mineral Policy for the United States.
Mr. Pehrson's special assignments have included secretary, Minerals Advisory Committee of the Army-Navy Munitions Board (1939-1940); representative for the Secretary of the U.S. Department of Interior on the Board's Strategic Materials Committee (1940-1949); keynoter at international conventions in Stockholm (1957) and Rolla, Mo. (1961); member of the U.S. Delegations to First Pan American Mining Congress, Chile (1942); and London Tin Conference (1946).
Mr. Pehrson was a founder and first chairman of AIME's Mineral Economics Division, now the Council of Economics. He also served as an AIME director in 1949, and as counselor, Mining and Metallurgical Society (1954-1957). In 1958, as ASTM's Edgar Marburg Memorial Lecturer his topic was "Man and Raw Materials."