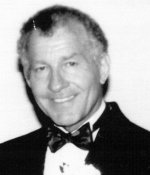 Edgar C. Capen (SPE)
AIME Mineral Economics Award in 1996
"For outstanding contributions to mineral economics, especially in decision analysis areas of leasing models, investment assessment, probability, risk, and risk psychology."
Edgar C. Capen retired as distinguished management advisor for Arco in 1992 after 35 years with the company. He now has a consulting practice with his firm, Vadcon, and with PetroRisk Partners.
After graduating from Texas University, he joined Arco in 1957 as a physicist in the company's production research laboratories, concentrating in seismic stratigraphic prospecting and well logging. He became director of research planning and evaluation, director of operations analysis, and then manager of capital administration and expense control.
He has received a number of honors, including SPE Distinguished Lecturer and Distinguished Lecturer Emeritus. He also received the SPE J.J. Arps Award in petroleum economics.