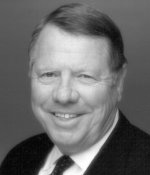 B. P. Huddleston (SPE)
AIME Mineral Economics Award in 2002
For his ability to transfer economic and accounting knowledge to practice through his industrial and governmental involvement, and for training a cadre of new Petroleum Engineering students in the art of economics.
B. P. "Pete" Huddleston graduated from Texas A&M University with a BS in Petroleum Engineering in 1957. He was employed by Marathon Oil Company for six years and served as a First Lieutenant in the Air Force for two years. He formed Huddleston & Co., Inc., in 1967. Mr. Huddleston served as a Visiting Professor of Petroleum Engineering at TexasA&M from 1981 until the spring of 1998.
He has been named as a Distinguished Engineering Graduate and named to the Academy of Distinguished Petroleum Engineers for Texas A&M. He has served on the U.S. Securities and Exchange Committee Advisory Council and the Financial Accounting Standards Board Oil and Gas Task Group. He has authored over 100 papers related to economics, accounting, and financial reporting.
He is a registered professional engineer and a member of a number of professional organizations. Mr. Huddleston is the 2002 recipient of the SPE Economics and Evaluation Award.