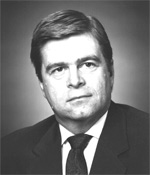 John E.R. Holditch (AIST)
AIME J.E. Johnson, Jr. Award in 1979
For his work in the use of homogenized oil for tuyere injection, the development of blast furnace practices for use with external hot metal desulfurization, and the development of methods to control alkalis in the blast furnace.
John E. R. Holditch is Superintendent, Blast Furnaces at Dominion Foundries and Steel Company, Ltd., in Hamilton, Ontario. He received his B.S. degree in metallurgical technology from Ryerson Polytechnical Institute in 1968 and his B.A. degree from the University of Toronto in 1975.
Mr. Holditch joined Dofasco as a General Trainee in 1969 and worked as Shift Process Supervisor and Quality Supervisor until his promotion to Assistant Supervisor in 1974. He has been responsible for the successful innovation and implementation of process controls required by changes in alkali control, homogenization, oxygen enrichment, Hi sulfur practice, and external desulfurization.