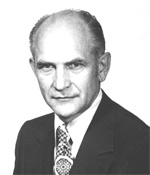 Edward J. Ostrowski (AIST)
AIME J.E. Johnson, Jr. Award in 1963
For pioneering efforts in the design, construction and operation of smaIl-scale experimental blast furnaces and in the development of practices utilizing auxiliary injected fuels and high blast temperatures.
Edward J. Ostrowski was born in Phillipston, Pa., in 1923 and studied Metallurgical Engineering at the University of Pittsburgh. In 1942 he joined Follansbee Steel Corp. This affiliation was interrupted by service with the U. S. Marines during 1942 and 1943. A year as bar mill inspector and chief observer, Open Hearths, with Follansbee was followed by five years with the U. S. Bureau of Mines in Pittsburgh, his last position there being Supervising Production Metallurgist in 1960.
In July, 1960 Mr. Ostrowski became Research Metallurgist, National Steel Corp., at Weirton, West Va. He is currently Supervisor, Process Metallurgy Research, and his work continues in the field of blast furnace research.