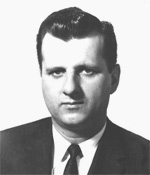 B.J. Snyder (AIST)
AIME J.E. Johnson, Jr. Award in 1969
As the dominant personality in making coal injection operational on a large blast furnace through his untiring efforts in combining the talents of operating, engineering and research personnel.
B. J. Snyder is general foreman, blast furnace with Armco Steel Corporation's Ashland Works. He was born May 19, 1930 and is a native of Ashland, Kentucky.
Mr. Snyder received his B.S. degree in chemical engineering from Georgia Institute of Technology in 1952. Upon graduating he joined the Armco Steel Corporation's Ashland Works. There he worked on fuel technology in the combustion department until 1956 when he transferred to the blast furnace department as assistant turn foreman.
Since 1956 Mr. Snyder has advanced through many supervisory positions in the company's sinter plant and blast furnace departments. He was made general foreman, bellefonte furnace in December, 1965. In March of 1968 he was named to his present position-general foreman, blast furnaces.
Mr. Snyder is a member of the Eastern States Blast Furnace Association and AIME. He is co-author of a technical paper that won the 1967 Ironmaking Award of The Metallurgical Society of AIME.