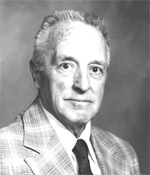 Stanley J. Lefond (SME)
AIME Hal Williams Hardinge Award* in 1983
Editor-in-Chief of Industrial Minerals and Rocks, fourth and fifth editions. Author of Handbook of World Salt Resources, and other industrial mineral publications.
Mr. Stanley J. Lefond holds B.S. and B.M.E. degrees in mining engineering from the University of Alaska and an M.S. degree in mineralogy from the University of Michigan. He formed his own consulting company in 1974, servicing corporations and individuals in the field of industrial minerals and economic geology.
In 1953 Mr. Lefond joined the Diamond Alkali Co. (now Diamond Shamrock) as an economic geologist and worked with Industrial minerals in many areas of the world. Thirteen years later he joined the U. S. Borax & Chemical Corp. as senior geologist and was responsible for finding an even wider range of industrial minerals, such as fluorspar, sulfur, and borates all over the Western Hemisphere. From 1970 to 1973 Mr. Lefond was associated with Amax Exploration Co. as an industrial minerals specialist.
Mr. Lefond is a Distinguished Member of the Society of Mining Engineers of AIME and chaired the Industrial Minerals Division in 1975. He Is also a member of the Society of Economic Geologists and other professional societies.