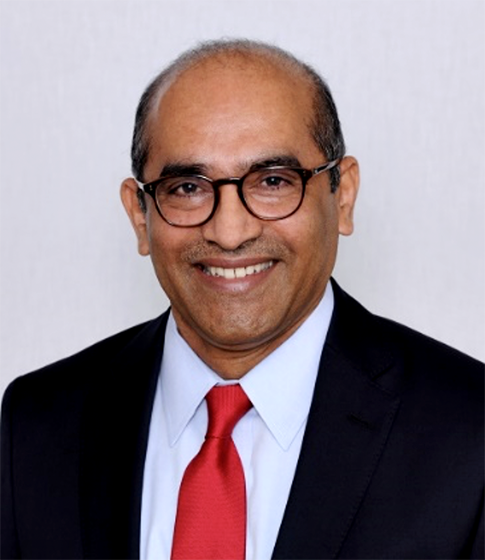 Srinivas Veeramasuneni (SME)
AIME Hal Williams Hardinge Award* in 2021
For outstanding and exemplary leadership toward research and innovation in the field of industrial minerals utilized in the building materials industry.
Dr. Srinivas Veeramasuneni is senior vice president and chief technology officer, USG Corporation. In this role, he oversees USG's technology vision, strategy, and investment, including oversight of the Innovation, Engineering, Global Supply Chain and Enterprise Project Management Office functions. His organization drives competitive advantage and profitability through collaboration, technology, and customer-centric innovation.
Veeramasuneni first joined USG in 1998 with a Ph.D. in metallurgical engineering from the University of Utah and has held various research and management positions during his tenure with the company.
Throughout his career, Veeramasuneni has been involved in innovation strategy, talent management, change management, technology road mapping and process improvements.
He has an extensive background in surface science and related application areas, including crystallization, mineral processing, and building materials. He published nearly 25 papers in surface science-related journals.
Veeramasuneni has been awarded 14 U.S. patents related to building materials, and has received numerous awards, including the AIME Rossiter W. Raymond Memorial Award, technology awards from USG Corporation and the SME Industrial Minerals Division Young Scientist Award. He was also recognized as a 2017 Chicago Business Leader of Color by Chicago United.
Veeramasuneni is active in external organizations and has held executive positions in ASTM committees and Industrial Minerals Division of SME. He is currently serving as a Board Member of Innovation Research Interchange (IRI), LUMITY, and Illinois Science & Technology Coalition (ISTC).
USG Corporation is an industry leading manufacturer of building products and innovative solutions. Headquartered in Chicago, USG serves construction markets around the world through its United States Gypsum Company and USG Interiors, LLC subsidiaries and its international subsidiaries, including its USG Boral Building Products joint venture. Its wall, ceiling, flooring, sheathing and roofing products provide the solutions that enable customers to build the outstanding spaces where people live, work and play. Its USG Boral Building Products joint venture is a leading plasterboard and ceilings producer across Asia, Australasia and the Middle East. For additional information, visit www.usg.com.