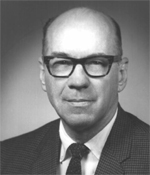 Robert Gill Montgomery (SME)
AIME Hal Williams Hardinge Award* in 1975
"For his contribution in finding, mining, processing, and marketing of domestic fluorspar, a gentleman-liked and respected by his associates, and long dedicated to AIME."
Robert Gill Montgomery is Executive Vice President and General Manager of the mining division of the Minerva Oil Company. He obtained his B.S. degree in Mining Engineering from the Missouri School of Mines at Rolla, Mo. in 1935 and was granted the Engineer of Mines degree in 1953.
Mr. Montgomery joined the Minerva Oil Company in 1941. While under their employ as a minerals exploration geologist, he worked closely with J. H. Steinmesch in the discovery of major fluorspar reserves in Hardin County, Illinois.
Active in AIME affairs since 1944, Mr. Montgomery has served as Chairman of the St. Louis Section and as a Director of the Society of Mining Engineers of AIME. He was elected Chairman of the Industrial Minerals Division of the Society in 1966 and is a current member and past Chairman (1972) of the Society Planning Committee.