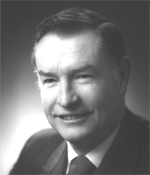 Richard H. Olson (SME)
AIME Hal Williams Hardinge Award* in 1987
"For distinguished contributions on western mineral deposits, especially talc and zeolites, and for outstanding service to the Industrial Minerals Division of SME."
Richard H. Olson has served as President of Industrial Minerals Evaluations, Inc. since 1972. He was graduated from Tufts University in 1950 with a S.S. in Geology and received his Ph.D., also in Geology, from the University of Utah. Dr. Olson's career in industrial minerals exploration began in 1951 with the U.S. Atomic Energy Commission where he was involved in uranium exploration. Since that time he held positions with Union Carbide Corporation from 1957 to 1959; Pfizer Inc., from 1965 to 1969, as Chief Geologist, Minerals Division; and Monsanto Company from 1969 to 1971, as Director, Mineral Resources Department; and from 1971 to 1972 he served as Project Manager in Greece for Geometrics. Dr. Olson was a member of the faculty of the Mackay School of Mines, University of Nevada for seven years. He has published 21 scientific articles and presented 8 papers at scientific meetings.
For more than 20 years Dr. Olson has been active in the Industrial Minerals Division of the Society of Mining Engineers, serving on the Executive Committee in 1964-1967 and 1970-1973, and as Chairman in 1981-1982. He has been a member of the SME Board of Directors and served on various SME committees. In addition to his activities in SME, Dr. Olson is a member of the Association of Exploration Geologists and the Society of Economic Geologists. He is a Charter Member of The Mining Club of the Southwest and a Fellow of the Geological Society of America.