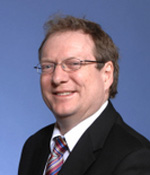 Mike O'Driscoll (SME)
AIME Hal Williams Hardinge Award* in 2011
In recognition of Mr. O'Driscoll's efforts as editor of Industrial Minerals in supporting technical information exchange and the dissemination of technical and commercial information on industrial minerals throughout the world, and particularly his leadership in the exchange of information with the Chinese IM sector.
Mike O'Driscoll has an MSc in Mining Geology from the Camborne School of Mines and 24 years experience in the international mining and minerals industry, specialising in industrial minerals.
Mike has researched, written, and devised editorial and event concepts on all aspects of the industrial minerals mine to market supply chain.
He has visited a wide range of mineral supply and end user operations worldwide, meeting senior executives from all key sectors, and has regularly organised, chaired, and presented at many industry conferences.
Mike has a BSc in Geology and Geography (1983), and an MSc in Mining Geology (1986) from the Camborne School of Mines, UK.
Starting his career in 1984 as Editorial Assistant at the Institute of Metals, London (now IOM3), he joined Industrial Minerals (IM) as Assistant Editor in 1987, becoming Associate American Editor, New York, 1988-90.
Returning to the UK, and after a period of travel in Asia, he joined Leeds Mineral Services Group, UK as Senior Analyst in 1991.
Mike later rejoined IM as Deputy Editor, becoming Editor in 1995, since when he has devised and launched a series of IM publications and conferences, and most recently IM's new online service.
He was Associate Editor and contributing author to the 7th edition of Industrial Minerals & Rocks, published by the Society for Mining, Metallurgy and Exploration (SME) in 2006. He is a member of the SME and the Association of Mining Analysts.