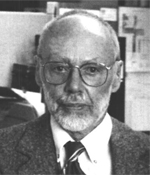 Lawrence F. Rooney (SME)
AIME Hal Williams Hardinge Award* in 1995
"For exemplary service as a scientist, author, editor and administrator serving the minerals industry and the Industrial Minerals Division, especially for contributions to "In the Aggregate" and Industrial Minerals and Rocks."
Lawrence F. Rooney retired from the US Geological Survey in 1994 as Chief, Branch of Central Technical Reports in Denver. He joined the Survey in 1975 as a project leader, Minerals for Energy and then worked on the Saudi Arabian Mission and was Chief, Branch of Western Technical Reports in Menlo Park, CA prior to his assignment in Denver. He has an MA from the University of Montana and a PhD in geology from Indiana University; in 1950-51 he was a Fulbright Scholar at the University of Besancon. He started his career as an exploration geologist for Mobil Oil in Libya, was an assistant professor at the University of Texas, a research geologist for Humble Oil and Refining Company and Head, Industrial Minerals Section, Indiana Geological Survey prior to joining the USGS.
Dr. Rooney published more than 30 papers mostly on construction materials and stratigraphy. He won the best presentation award at the SME Annual Meeting in Chicago, 1967; and the Department of Interior, Meritorious Service Award in 1992.