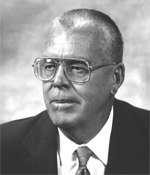 Keith G. Papke (SME)
AIME Hal Williams Hardinge Award* in 1992
"For distinguished field work and publications on the industrial minerals of Nevada and for his service to the Industrial Minerals Division of SME."
Keith G. Papke retired in 1986 after 21 years as Industrial Minerals Geologist for the Nevada Bureau of Mines and Geology, University of Nevada, Reno. He is now an Emeritus member of the University staff and a consulting geologist specializing in Western industrial minerals He has authored numerous publications on the subjects of c lays, zeolites, talc, evaporite minerals, fluorspar, barite, gypsum, and mining claim procedures. Prior to his work in the Bureau, Mr. Papke was employed in industrial mineral and metal exploration for several Western companies.
Mr. Papke received a B.S in Mining Engineering from South Dakota School of Mines in 1948 and an M.S. in Geology from the University of Arizona in 1952. He has been SecretaryTreasurer of the Industrial Minerals Division of SME and has served on numerous committees. Currently, he is an Associate Editor for the 6th edition of Industrial Minerals and Rocks. Mr Papke is a former chairman of the SME Northern Nevada Section. In addition to SME, Mr. Papke is also a member of the Society of Economic Geologist. Clay Mineral Society and the Nevada Geological Society.