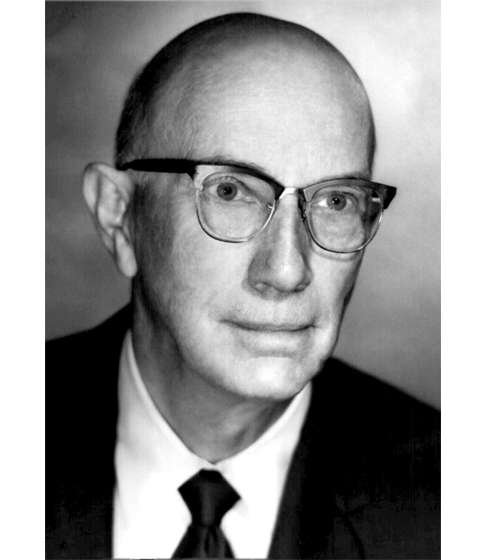 John E. Lamar (SME)
AIME Hal Williams Hardinge Award* in 1971
"For creatively conducting and directing basic and applied research directed to enhancing the utilization and development of industrial minerals, especially those native to the State of Illinois."
John E. Lamar is the retired Head of the Industrial Minerals Section of the Illinois State Geological Survey, a position he held for more than forty years prior to his retirement in 1966.  With the exception of one semester when he was a Geology Instructor at the University of Illinois, Mr. Lamar has devoted his entire career to the Illinois State Geological Survey since his graduation from the University of Chicago in 1920.
In addition to his AIME membership, Mr. Lamar is a member of the Society of Economic Geologists, a charter member of the Geochemical Society, and a Fellow of the Geological Society of America. His AIME activities include the following: Vice Chairman, St. Louis Section, 1929; Vice Chairman, Industrial Minerals Division, 1939; Executive Committee, 1939-1941; Chairman, Papers and Program Committee, 1940; Rocky Mountain Vice-Chairman, 1948-1949; Member, Committee on Industrial Water Supplies; Chairman, Mineral Aggregates Committee, 1954; Member, Industrial Sands Committee, 1956-1957, all Industrial Minerals Division.
Mr. Lamar is the author of more than 50 papers and reports, the co-author of an additional 35, and has contributed to numerous technical journals and bulletins. He has written extensively on industrial minerals including resources of limestone, silica sand, tripoli, ganister, novaculite, clay and shale, gravel sand, rock wool, building stone, cement making materials, gypsum, sandstone, oil shale, and other resources, areal geology, petrology and trace elements of limestone, character and mineral composition of gravels and sands, and uses of limestone, dolomite, and sand.
Born in Grand Rapids, Michigan, Mr. Lamar has been a resident of Urbana since 1920.