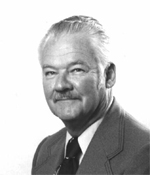 James R. Dunn (SME)
AIME Hal Williams Hardinge Award* in 1989
"Geologist, educator, and author. In recognition of his many contributions in the exploration, development and utilization of construction aggregates, and his efforts on behalf of the mining industry in environmental and public affairs."
James R. Dunn received his bachelor's degree from the University of California at Berkeley in 1943 and after service in the U.S. Navy, returned to Berkeley where he obtained a Ph.D. in Geology in 1951. From 1950 through 1975 Mr. Dunn was a professor at Rensselaer Polytechnic Institute. He was consultant to the American Syndicate. an airborne electromagnetic exploration organization from 1954 to 1959. In 1960 he founded James R. Dunn and Associates. Inc .. which later became Dunn Geoscience Corporation; and he is now consultant to and Chairman of the corporation. Mr. Dunn was President of the American Institute of Professional Geologists in 1980 and is registered or certified as a geologist in California, Georgia, Maine and North and South Carolina. He is also a Cen1fied Engineering Geologist in California.
Currently Mr. Dunn is on several national committees and the National Stone Association's Task Group on the new OSHA Asbestos Regulations. In 1979 and 1980 he was Chairman of the Construction Minerals Panel of the National Research Council 's Committee on Surface Mining and Reclamation. He is also a member of the National Council for Environmental Balance. Mr. Dunn has written many articles about various areas of applied geology and the impact of man on the environment.