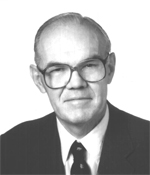 Frank C. Appleyard
AIME Hal Williams Hardinge Award* in 1990
"In recognition of outstanding achievements in the exploration for and mining of industrial minerals and particularly gypsum, as well as his dedication and commitment to the Society of Mining Engineers of AIME."
Frank C. Appleyard, currently a consultant, retired in 1981 as Vice President Raw Material Resources, United States Gypsum. after spending forty years with the company. He joined U.S. Gypsum in 1937 and in 1940 left the company to become Shift Foreman and Mine Foreman for Braden Copper Company in Chile. In 1944 he returned to U.S. Gypsum and held various technical and supervisory positions. From 1952 to 1977 he was Manager of Mines and Director Mining and Exploration, becoming Vice President-Technical Services in 1977.
Mr. Appleyard holds a B.S 1n Mining Engineering from the University of Missouri, Rolla. He has authored numerous papers and two chapters on "Gypsum & Anhydrite" published in Industrial Minerals & Rocks, fourth and fifth editions. Mr. Appleyard is a member of SME and the Mining Society of Nova Scotia (CIM).