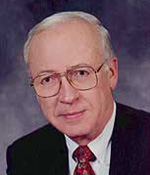 A. Frank Alsobrook (SME)
AIME Hal Williams Hardinge Award* in 2004
In recognition of his contributions in the areas of mineral exploration and development, mineral processing, and market research; and distinguished service to the Society for Mining, Metallurgy and Exploration, and longstanding support and dedication to the Industrial Minerals Division of SME and other professional organizations.
A. Frank Alsobrook is president of Alsobrook & Company, Inc. (ACI), an industrial minerals consultancy whose worldwide activities include prospect evaluation, market research, business strategy analysis, valuations, acquisitions and divestitures, and product and marketing program development. Before founding ACI in 1987, he was vice president and general manager of operations for Energy & Minerals, Inc. He also worked as manager of mineral resources for Engelhard Corp., corporate geologist for General Refractories Co., and senior geologist for U. S. Borax, Inc., Arthur D. Little, Inc., and The Minerals Research Laboratory.
Alsobrook is an honors graduate of Emory University and received an M.S. in geology from the University of Wisconsin. He is a member of several professional organizations, has lectured and presented papers on industrial mineral resources, was an associate editor and contributing author for Industrial Minerals and Rocks, 6th Edition, and currently is a senior editor for the 7th Edition. He has served on SME's Board of Directors and in 1996 and 1997 as chair of the Industrial Minerals Division.