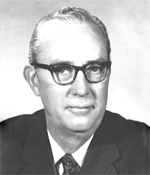 Elburt Franklin Osborn
AIME Hal Williams Hardinge Award* in 1974
"For outstanding service to the mineral industry as geochemist, educator, and government official; especially for research in the field of minerals for ceramics and refractories."
Elburt Franklin Osborn, until recently Director of the U.S. Bureau of Mines, is now first Distinguished Professor of the Carnegie Institution, Geophysical Laboratory in Washington, D.C. He received his B.A. from DePauw University in 1932, his M.S. from Northwestern University in 1934, and his Ph.D. in geology in 1938 from the California Institute of Technology.
He was a member of the staff of the Geophysical Laboratory of the Carnegie Institution of Washington from 1938 to 1942. During the war, Dr. Osborn was a research scientist with the National Defense Research Committee Office of Scientific Research and Development. After the war, he joined the Eastman Kodak Company as a physical chemist. His long association with the Pennsylvania State University began in 1946. He was Professor of Geochemistry and Chairman of the Department of Earth Sciences until 1953. He served as Dean of the College of Mineral Industries and then became Vice President for Research in 1959. He left the University in 1970 to become Director of the Bureau of Mines, U.S. Department of the Interior. After serving the government for three years, he accepted the post at the Carnegie Institution of Washington.
Dr. Osborn is a member of the National Academy of Engineering, and holds Honorary Life Membership in both the American and Canadian Ceramics Societies. He has received Honorary Doctor of Science degrees from Northwestern University, DePauw University, Alfred University, and Ohio State University. He is the recipient of the Roebling Medal of the Mineralogical Society of America and the John Jeppson Award of the American Ceramic Society.