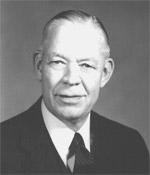 Arthur B. Cummins (SME)
AIME Hal Williams Hardinge Award* in 1966
"For creative direction of research activities leading to major improvements in technology for the processing and use of a wide variety of important industrial minerals."
Arthur B. Cummins, mining engineer consultant in Bound Brook, New Jersey, retired in 1961 as manager of the Central Chemical and Physical Research Department of the Johns-Manville Corporation. He was graduated from the University of Chicago with a BS degree, and he later received a PhD from the University of California.
Following four years with the University of California as assistant chemist, Cummins joined the Celite Co. in Lompoc, Calif. Within three years he was appointed research engineer in charge, and after Johns-Manville acquired the Celite Co., he became manager of celite research. In 1956 he assumed his position of manager of the Central Chemical and Physical Research Dept.
Cummins is an internationally recognized authority on several aspects of asbestos mining, mineralogy, filtration technology of silica and diatornaceous earth, and has written many technical papers on these subjects.