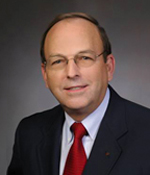 Robert C. Bratton (SME)
AIME Frank F. Aplan Award in 2015
For substantive contributions to the research, development, demonstration and deployment of new processing technology for the coal and minerals industries.
Mr. Bratton is a senior research associate with the Department of Mining and Minerals Engineering at Virginia Tech. He joined the research faculty in 2002. His position focuses on academic research involving industrial partners. His responsibilities include testing programs to evaluate innovative and advanced separation technologies and technical outreach services to assist companies with evaluations and efficiency improvements. He is the instructor for the graduate-level mine systems automation courses and serves as a practical advisor for graduate degree candidates in mineral processing. He has authored technical publications, reports and presentations and has been an instructor for workshops and short courses.
Bratton received a B.S. degree in chemical engineering from Virginia Tech and is a licensed professional engineer in Virginia. Before joining Virginia Tech, he worked for Powell Construction Co., Cyprus Amax Coal, Pittston Coal Group and Corning Glass Works. He is a member of SME and the American Institute of Chemical Engineers and was named a Henry Krumb Lecturer for 2011-2012.