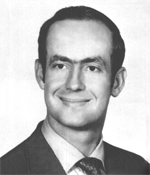 Sidney S. Smith (SPE)
AIME DeGolyer Distinguished Service Medal in 1998
For pioneering work in gas lift technology and for many and continuing contributions at the section and Society levels including leadership of two of the SPE's largest sections, chairmanship of major SPE conferences, and tireless efforts in the career development and globalization areas that bate significantly benefited the Society and Us members.
Sidney S. Smith, consultant, recognized for his pioneering work in gas-lift- and scale-preventive-maintenance systems, earned his BS in petroleum engineering from the Southwestern Institute (later named the University of Southwestern Louisiana) in 1958.
During his thirty-seven year employment in the oil industry, he worked in various technical sales and engineering capacities with Cameo Inc. (1958-1968) where he co-authored Cameo's Gas Lift Manual and became a recognized expert in the field of artificial lift. In 1968. he joined Conoco Inc. and held positions in engineering, operations and management. During most of his career Mr. Smith has lived and worked in Houston. For twelve years, he also worked with Conoco as an expatriate both in Dubai and Indonesia. He retired from Conoco as manager of special projects in the production technology department in Houston. His present situation allows him to work as a consultant on a part time basis in the international petroleum industry.
Mr. Smith has made many contributions at the section level, including as a regional director, leadership of two of SPE's largest sections and chairmanship of major SPE conferences, His tireless efforts in the areas of career-development and industry globalization have been of significant benefit to the Society and its members. He became a Distinguished Member in 1989.