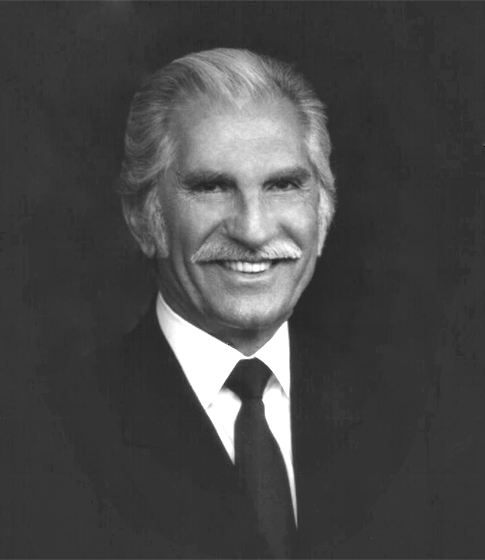 Michael T. Halbouty (SPE)
AIME DeGolyer Distinguished Service Medal in 1971
In recognition of distinguished and outstanding contributions to the Petroleum Industry and to the Society of Petroleum Engineers of AIME through his professional achievements in engineering and geology.
Michel T. Halbouty is an independent consulting geologist and petroleum engineer in Houston, Texas.
He is a graduate of Texas A&M U., with both BS and MS degrees in Geology and Petroleum Engineering. In 1956 he received the Professional Degree in Geological Engineering from Texas A&M, and in 1966 he was awarded the Degree of Doctor of Engineer, Honoris Causa, by the Montana College of Mineral Science and Technology.
Mr. Halbouty joined Yount-Lee Oil Company in 1931 as a Geologist and Petroleum Engineer and remained with the company until it was sold to Stanolind Oil and Gas Company in 1935. He then joined Glenn H. McCarthy, Inc., as Vice-President and General Manager and served in that position for two years. In 1937, Mr. Halbouty left McCarthy to form his own consulting firm. As an independent consultant, Mr. Halbouty has been responsible for the discovery of 40 oil and gas fields since 1945.
During his career, Mr. Halbouty has authored more than 140 technical papers and several books in the fields of geology and petroleum engineering. He is an active member in 25 technical and professional societies and is a past president of the American Association of Petroleum Geologists. In 1965, Mr. Halbouty was honored by the Texas Mid-Continent Oil and Gas Association with its Distinguished Service Award, and in 1968 he received the Distinguished Alumni Award from Texas A&M. The DeGolyer Distinguished Service Medal was established in 1964 by SPE-AIME "to recognize distinguished and outstanding service to AIME, the Society, the professions of engineering and geology, and the petroleum industry.