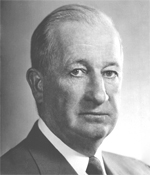 John R. Suman (SPE)
AIME DeGolyer Distinguished Service Medal in 1968
In recognition of his distinguished contributions to the engineering profession and to the petroleum industry as author, engineer and executive, and in deep appreciation of his more than 50 years of devoted service and creative leadership in many activities of the Society of Petroleum Engineers of AIME.
John R. Suman, now a petroleum economic consultant in Houston, Texas, has spent more than 55 years in the petroleum industry as a practicing engineer, a director of research, a manager of petroleum production, and an industrial statesman.
Mr. Suman graduated from the Mining College of the University of California in 1912 with a degree in mining engineering. He began his career in the petroleum industry with the Rio Bravo Oil Company in Houston, serving first as assistant geologist and later as chief engineer. In 1916 he invented the Double Pitman Pump for oilfield production operations. He was named assistant to the vice-president and general manager of Rio Bravo in 1925.
In 1927, Mr. Suman became a director of Humble Oil & Refining Company and, in 1933, was named vice-president of production. He remained with Humble until 1945 when he left to become vice-president and director of Standard Oil Company of New Jersey. A year later he was elected to the company's executive committee. He retired from Standard in 1955 to open his own consulting offices.