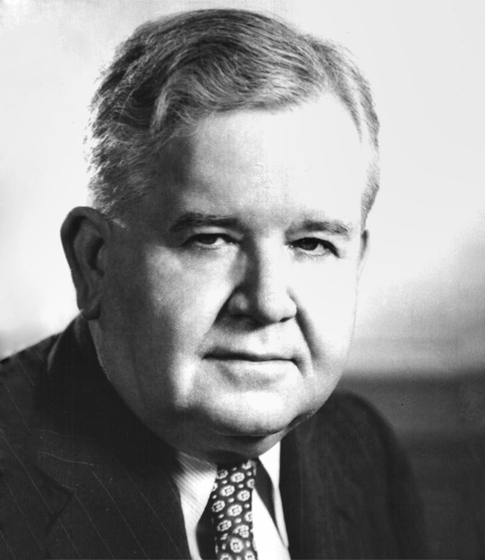 Everette Lee DeGolyer (posthumously)
AIME DeGolyer Distinguished Service Medal in 1966
In recognition of distinguished service to the Society of Petroleum Engineers as one of the founders, to A1ME for distinguished leadership as first petroleum president, and to the engineering profession for outstanding and professional contributions.
Mr. E. DeGolyer, graduated from the University of Oklahoma, A.B., 1911, was senior member of the firm of consulting geologists and engineers known as DeGolyer and MacNaughton, Dallas, Texas, and a specialist in oil exploration. The firm functioned as consultant for the governments of Mexico, Brazil and Peru, United States Navy on petroleum reserves, and has done work for other governments in South America, together with Canada, etc. Mr. DcGolyer served as a director of the American Petroleum Institute and many industrial and commercial organizations. He was a charter member of the National Petroleum Council, the Military Petroleum Advisory Board and the Advisory Committee on Raw Materials of the Atomic Energy Commission.
He organized the Amerada Petroleum Corporation in 1919, occupying positions of general manager, president, and, finally, chairman of the board. He resigned in 1932 to enter consulting work and to engage in oil exploration.
He was a member of many technical Societies. His pioneer work in the use of geophysics for oil exploration earned for him the Lucas Medal of the American Institute of Mining and Metallurgical Engineers, of which he is a past president, and the John Fritz Medal of the Four Founder Societies.
He was technical adviser on the formation of the Petroleum Code of the National Recovery Administration, 1933. Successively, from 1941 to 1943, he was Director of Conservation and Assistant Deputy Petroleum Administrator for War. He became consultant to the U.S. Petroleum Reserves Corporation in 1943. He was chief of the U.S. Mission to Mexico in 1942 and the U.S. Mission to the Middle East in 1943 and 1944.
Mr. DeGolyer received an honorary D. Sc., Colorado School of Mines, 1925, and Southern Methodist University, 1945, and an honorary LL. D., Trinity College 1947. In June 1949 he received an honorary Dr. of Engineering degree from Princeton. He was the recipient of the first Distinguished Service Citation from the University of Oklahoma in 1948.