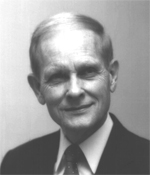 Howard L. Hartman (SME)
AIME Daniel C. Jackling Award in 1990
Howard L. Hartman is professor of Mining Engineering and associate dean of engineering at Pennsylvania State University. He has three degrees in Mining Engineering - B.S. and M.S. from Penn State and Ph.D. from the University of Minnesota.
During his career as an engineer, Dr. Hartman has served as a consultant to many federal and state groups as well as several companies with mining interests.
He has taught at Minnesota and Colorado Schools of Mines in addition to Penn State where he served as head of the Department of Mining for six years. During this time he introduced the Student-Trainee Program, a five-year work-study plan which doubled undergraduate enrollment and is supported by some thirty companies. In addition, he has developed a major research program to which he actively contributes his own research in rock drilling and penetration, mine ventilation and dust control.
Dr. Hartman has written a textbook "Mine Ventilation and Air Conditioning" in addition to 37 technical articles. He organized the first Symposium on Rock Mechanics held at Colorado School of Mines 1956. He is an active AIME member and a past chairman of the SME Mining Engineering Educators Committee. He also holds membership on several SME Coal Division Committees and is associate editor of the forthcoming Mudd "Surface Mining" volume.