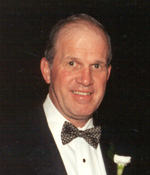 William G. Lowrie (SPE)
AIME Charles F. Rand Memorial Gold Medal* in 2001
For significant contributions as corporate executive of Amoco Corporation and BP Amoco, and for direction of the company's global Oil and Gas Exploration and Production operating strategy.
William G. Lowrie retired April 1, 1999 from BP Amoco. At the time of his retirement he was deputy CEO responsible for the worldwide downstream and chemicals operations of BP Amoco. Mr. Lowrie joined Amoco Production Company in 1966 and since then has held a number of positions with Amoco in Lake Charles, New Orleans, Tulsa, and Denver. He became president of Amoco Canada in 1985; Amoco Production's senior vice president-production in 1986; president of Amoco Oil Company in 1990; president of Amoco Production Company in 1992; and president of Amoco Corporation in 1996.
A native of Ohio, Mr. Lowrie received a bachelor's degree in chemical engineering from Ohio State University in 1966 and participated in the executive program at the University of Virginia in 1977. Mr. Lowrie is vice chair, The Ohio State University Foundation Board of Directors. He serves as board member of the Northwestern Memorial Corporation, and Junior Achievement, Inc, Mr. Lowrie has been a member of the Society of Petroleum Engineers since 1968 and was accorded the honor of Distinguished Member in 1998.