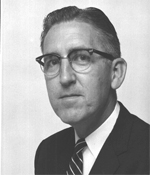 Theodore W. Nelson
AIME Charles F. Rand Memorial Gold Medal* in 1976
For his outstanding Leadership, distinguished achievements in management, and dedicated service to AIME.
Theodore W. Nelson is a director, executive vice-president, member of the executive committee of Mobil Oil Corporation and president of Mobil's Exploration and Producing Division in New York City. He is responsible for the worldwide exploration and production of crude oil, natural gas, gas liquids, coal, and minerals.
Mr. Nelson received his degree in petroleum engineering from the Colorado School of Mines in 1934 and immediately joined Mobil.
In 1964 Mr. Nelson received a medal from the Colorado School of Mines for distinguished achievement in the field of mineral engineering. During 1966 and 1967 he served the United States Government on a part-time basis as alternate deputy national administrator for the Emergency Petroleum and Gas Administration.
A member of the Institute since 1948, Mr. Nelson has been a director and a vice-president of AIME and a director of the Society of Petroleum Engineers of AIME. He is a trustee of the Colorado School of Mines Research Foundation, serves as a member of various advisory boards of three universities, and is a member of the National Advisory Council on Minorities in Engineering.