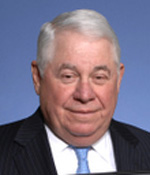 Richard C. Adkerson (SME)
AIME Charles F. Rand Memorial Gold Medal* in 2011
For his demonstrated strong and effective leadership under varying market conditions resulting in the world's largest publicly traded copper company and for his support of education and sustainable development worldwide.
Richard C. Adkerson is President and Chief Executive Officer of Freeport-McMoRan Copper & Gold Inc.  FCX,with headquarters in Phoenix, Arizona, is the world's largest publicly owned copper producer and the principal supplier of copper to the United States. FCX operates the Grasberg mining complex in Papua, Indonesia, the world's largest copper and gold mine in terms of reserves, and conducts significant mining operations in North and South America. FCX is developing the potentially world-class Tenke Fungurume copper/cobalt project in the Democratic Republic of Congo. He is also Co-Chairman of McMoRan Exploration Co.,a New York Stock Exchange company engaged in oil and gas exploration and production offshore and onshore in the Gulf of Mexico region of the United States. McMoRan is an industry leader in drilling deep natural gas wells in the shallow waters of the Gulf of Mexico.
He graduated from Mississippi State University with a BS degree with highest honors and an MBA degree. In 2010, he received an Honorary Doctor of Science degree from Mississippi State. He also completed the Advanced Management Program of the Harvard Business School. Prior to joining Freeport-McMoRan in 1989, he was a Partner and Managing Director in Arthur Andersen & Co. where he headed the Firm's Worldwide Oil and Gas Industry Practice. From 1976 to 1978, he was a Professional Accounting Fellow with the Securities and Exchange Commission in Washington, D.C. and a Presidential Exchange Executive.
Mr. Adkerson currently serves as Chairman of the International Council on Mining and Metals and on the Executive Board of the International Copper Association. He is a member of The Business Council and the Business Roundtable. He serves on the Board of Directors of the Arizona Commerce Authority, Greater Phoenix Leadership and the Greater Phoenix Economic Council. He is a member of the Advisory Council of the Kissinger Institute on China and the United States, the Dean's Council of 100 for the Arizona State University W. P. Carey School of Business, and serves on the Board of Visitors of the M.D. Anderson Cancer Center in Houston, Texas. He has served as President of the Mississippi State University Foundation Board of Directors, chaired its "State of the Future" capital campaign, and serves on the University's Advisory Board for the College of Business. He was named the Outstanding Accounting Alumnus of Mississippi State University in 1989 and the Outstanding Alumnus of Mississippi State University's College of Business and Industry in 1991. In each of the past three years, he was named The Best CEO in Metals and Mining by Institutional Investor magazine and was named The Copper Man of the Year 2009 by The Copper Club.