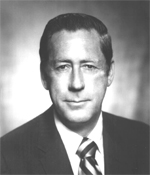 Ralph L. Hennebach (TMS)
AIME Charles F. Rand Memorial Gold Medal* in 1983
In recognition of his many contributions to the mining industry, from ore buyer to Chairman of ASARCO, and for his service as director of other mining companies, to mining societies, and to the entire mineral resources profession.
Mr. Hennebach was graduated from the Colorado School of Mines in 1941 as a metallurgical engineer and received an M.S. degree in industrial management from MIT in 1953. He joined ASARCO in 1941 as a chemist in the company's EI Paso plant laboratory and subsequently was an assayer and plant metallurgist. After serving in World War II, Mr. Hennebach returned to ASARCO as Assistant Supervisor of their copper smelter in Hayden, Arizona. In 1948 he was transferred to EI Paso to start up a slag fuming plant and in 1953 was assigned as an ore buyer in the New York office. Over the next two decades, he rose to Assistant General Manager of the Western Department in Salt Lake City, Assistant to the Executive Vice President and then Vice President, Smelting and Refining, in New York. Elected a Director in 1964, he became Executive Vice President in 1966, President in 1971 and Chairman of the Board in 1982. Mr. Hennebach is also on the boards of Crompton & Knowles Corp., Mexico Desarrollo Industrial Minero, S.A., and Southern Peru Copper Corp.
Mr. Hennebach is a member of The Metallurgical Society of AIME, the Mining and Metallurgical Society, the Pan American Society of the United States, and several New York Associations.