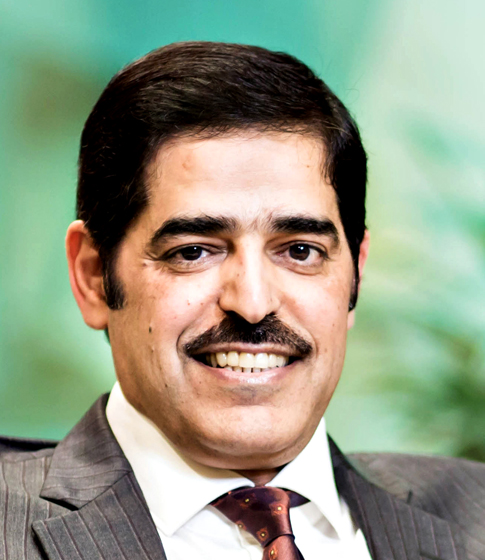 Nasir K. Al-Naimi (SPE)
AIME Charles F. Rand Memorial Gold Medal* in 2017
For his leadership and management of one of the largest oil and gas fields, production volumes, upstream technologies, and human resource investments in the world, and his dedication to the petroleum industry and to SPE.
Nasir K. Al-Naimi is the Vice President of Petroleum Engineering & Development at Saudi Aramco. Mr. Al-Naimi's extensive industry experience spans the entire oil and gas industry value chain, from operations and distribution to marketing, and sales. During his 30 years in the industry, Mr. Al-Naimi served Saudi Aramco in various leadership capacities, beginning as Executive Director of Pipelines, Distribution & Terminal in July 2010. In 2012, he was appointed as the Vice President of Northern Area Oil Operations overseeing oil and gas fields in the Northern part of Saudi Arabia and the Shaybah field in the Empty Quarter. In 2016, Mr. Al-Naimi was appointed Vice President of Petroleum Engineering & Development.
Mr. Al-Naimi is a great advocate of the Society of Petroleum Engineers and its role in spreading knowledge and preparing the industry to address future challenges. He provides support to the SPE through his leadership as the Chairman of the Board of Directors of the SPE – Saudi Arabia Section. In addition, he has served on various executive committees for MEOS, ADIPEC, and IPTC. He holds a Bachelor's Degree in Petroleum Engineering from the University of Southern California. He has also attended several leadership training programs, including the London Business School Senior Executive Program in 2004 and the Asian Business & Culture Program in 2008. Mr. Al-Naimi serves as a Board Director for the Saudi Aramco Upstream Technology Company and the Arabian Drilling Company. Formerly, he was a board member of the Saudi Aramco Refinery Company Ltd.