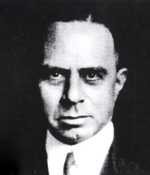 John Fairfield Thompson (TMS)
AIME Charles F. Rand Memorial Gold Medal* in 1958
For his leadership of a mining and metallurgical enterprise which has contributed to free world strength; for administrative skills which have furthered the progress of the nickel industry; for his vision in stimulating scientific research; for demonstrating the value of a technical education combined with broad interests and human understanding.
John F. Thompson, who has just completed his fiftieth year in the nickel industry, was born in Portland, Maine, in 1881. From the School of Mines, Columbia University, he received a B.S. degree in 1903, followed by a Ph.D. in 1906.
In 1906, Dr. Thompson joined International Nickel Co. of Canada as a metallurgist to design and operate its first research laboratory at its Orford Works. In charge of all research and technical activities on Monel and malleable nickel, and head of all field and outside plant operations from 1906 to 1918, he established and headed the first Technical Department, forerunner of Inco's present Development and Research Division.
As Manager of Operations in 1921, Dr. Thompson supervised the construction and initial operations of the Company's Huntington Works. In 1928, he was elected Assistant to the President; a Director in 19'31; Vice-President in 1932; Executive Vice-President in 1936; President in 1949, and Chairman as well, in 1951. In May 1952, he relinquished the Presidency, continuing as Chairman. He is also Chairman of the Board of the U. S. subsidiary, The International Nickel Co., Inc.
Dr. Thompson is a Director of many other organizations and has received many honors, among them the Thomas Egleston Medal, an honorary D.S. from Columbia, and an honorary Doctor of Laws from Queen's University. He is a Commander in the Order of the White Rose (Finland). In December 1956, a new town and a new nickel mine were named for him in Northern Manitoba. He has been a Member of AIME since 1916.