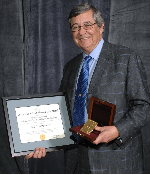 Jack Thompson (SME)
AIME Charles F. Rand Memorial Gold Medal* in 2012
For his leadership in "Mining Sustainability" at McLaughlin before sustainability was a notion in our industry. And for elevating himself above the norm by being successful, technically revolutionary, generous, and a kind and good man.
Following the merger of Homestake Mining with Barrick Gold Corp in 2001, Mr. Thompson has been providing consulting services to industry.  He serves as a director on various boards of directors of public companies.
PAST PROFESSIONAL EXPERIENCE:
Barrick Gold Corp.: Vice Chairman
Homestake Mining Co.: Chairman and Chief Executive Officer; Chairman, President and Chief Executive Officer; President and Chief Executive Officer; President and Chief Operating Officer; Executive Vice President, Homestake Mining Company; President and Chief Executive Officer, Homestake Canada, Inc.; President, Prime Resources Group, Inc.; President, Homestake International Minerals Ltd.; General Manager, McLaughlin Mine, Homestake Mining Company
Newmont Mining Services: He began his career with NewmontServices Ltd., working at one of the largest underground copper mines in the world.  In the ten years (1971-1981) at Newmont, he held a variety of jobs with increasing responsibilities in copper and uranium mining operations in Canada and the U.S.A.
PROFESSIONAL AND CIVIC ASSOCIATIONS:
Currently serves on the Boards of Directors of Anglo American plc, Tidewater Inc. and Molycorp Inc. In the past, he served on a variety of public company including Phelps Dodge Inc, Stillwater Mining Co., Rinker Ltd., Prime Resources Inc., Century Aluminum Inc. and Centerra Gold Inc. He served on the board of Homestake Mining Company for six years and was Chairman of the Board for four years. He served on the Advisory Board of Capital Resource Funds III and IV LP, funds that invests in development stage mining companies worldwide. In the past he served on the Science Advisory Board of the Bureau of Land Management within the Dept. of Interior. He currently serves as Chairman of John Muir Health Foundation. In the past he served on the Board of John Muir/Mt. Diablo Health Network, Walnut Creek, CA and Redbud Hospital, Clearlake, CA. His professional affiliations included World Gold Council (Director from 1992-2001); Gold Institute (Chairman 1999-2001); Western Business Round Table (Chairman 1996-1998); National Mining Assoc. (Director 1994-2001); Society for Mining, Metallurgy, and Exploration (Distinguished Member Award in 2002); Mining and Metallurgical Soc. of America; Canadian Institute of Mining, etc.