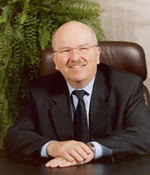 Guy G. Dufresne (SME)
AIME Charles F. Rand Memorial Gold Medal* in 2009
For leading the financial restructuring of Quebec Cartier Mining Company (now ArcelorMittal Mines Canada) while maintaining operational excellence, which positioned their iron ore products to serve niche markets and the company for future growth.
Mr. Guy Dufresne obtained his diploma in civil engineering at the École Polytechnique in 1964. He continued his studies in the United States from which he returned with a Master of Business Administration (M.B.A.) from Harvard University. Upon his return to Montréal in 1967, he started working at Consolidated-Bathurst Inc., where he stayed for 20 years. Following the sale of the company in 1989, he progressed to the position of Executive Vice-President. He was then appointed President and CEO at Kruger Inc. until his departure in 1992. After pulp and paper, he has remained loyal to the world of natural resources and became, in 1992, President and CEO of the Québec Cartier Mining Company.
Mr. Dufresne is Chairman of the Board on several large corporations, including: Cambior Inc., Conseil du patronat du Québec, Chamber of Maritime Commerce and Great Lakes-St. Lawrence Maritime and Industrial Council. He is also member of the Compagnie d'Assurance Royal & SunAlliance Advisory Committee. During his career, he has been Chairman of the Board of: Mining Association of Canada, Institut Armand Frappier, Pulp and Paper Association of Québec and the World Trade Centre. In addition, he has been a member of the National Advisory Council of the Minister of Natural Resources for CANMET (Canadian Mineral & Energy Technology) and also took part in the National Advisory Committee of the Minerals and Metals Industry. He has also been a member of the National Advisory Council on Science and Technology. In this regard, he has chaired committees on technology transfer and energy efficiency. He has also been a member of the Board of several other companies, including: Aliments Delisle, Groupe de la Laurentienne, Liquid Carbonic (Praxair), École Polytechnique, Pulp and Paper Association of Canada, PAPRICAN – Research Centre, Repap Enterprises Inc., Club Saint-Denis and as the first Vice-President of the Montreal Chamber of Commerce. Mr. Dufresne received the Merit Award for the Association des Diplômés de l'École Polytechnique in 1995 and was honored by joining the ranks of the Club des Entrepreneurs du Conseil du patronat du Québec in June 2002.
Québec Cartier Mining Company is resolved to be the leading producer and supplier of iron ore products on the world market. With the commitment of its 1800 employees, Québec Cartier Mining Company undertakes to produce and supply top quality products at competitive prices while insuring the best possible return on investment. To meet the challenges of market globalization and fierce competition, the company has adopted a policy of continuous improvement, which combines client satisfaction, product quality, competitive costs, technological advances and the talents of a versatile work force.