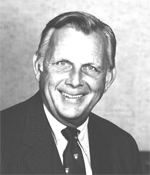 Edward S. Frohling (SME)
AIME Charles F. Rand Memorial Gold Medal* in 1982
For inspirational leadership and management skills brought to the minerals and construction industries resulting in the founding and successful administration of Mountain States Mineral Enterprises.
Edward S. Frohling, President and Chief Executive Officer of Mountain States Mineral Enterprises, Inc., has been named 1982 recipient of the Charles F. Rand Memorial Gold Medal. Mr. Frohling founded Mountain States Mineral Enterprises in 1969 to provide engineering services to the copper mining industry of the southwestern United States and northern Mexico. In the thirteen years since, the company has become a major U.S. engineering-construction firm serving the minerals industry worldwide. Through its three wholly-owned subsidiaries -- Mountain States Engineers, Mountain States Research & Development and Minerals Separation Corporation -- the company offers a complete range of services from sampling and analysis to process design, engineering, construction and start-up.
Mr. Frohling has been recognized in the southwest for having, through Mountain States, which employs more than 800 people, helped to boost the local economy, and through his own personal contributions and involvement in the community, helped provide incentives for economic growth in the immediate area.
A Director of the Society of Mining Engineers of AIME, Mr. Frohling was named a Distinguished Member of the Society in 1979. In 1975, he received the Distinguished Citizen Award of the College of Mines and the Alumni Association of the University of Arizona, and the same year was named "Man of the Year" by the Tucson Advertising Club.