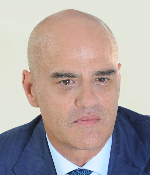 Claudio Descalzi (SPE)
AIME Charles F. Rand Memorial Gold Medal* in 2012
For his vision, passion, undisputed charismatic leadership and executive skills in managing Eni E&P, a large and complex organization operating in more than 40 countries with more than 10,000 employees of different nationalities and cultures, to realize challenging O&G projects through innovative industrial model with high content of sustainability.
Claudio Descalzi has been Chief Operating Officer of Eni - Exploration & Production Division - since July 2008. Since 2010 he has been Chairman of Eni UK Board of Directors and Advisor of Eni Trading and Shipping Board. He is currently President of Assomineraria and Vice President of Confindustria Energy, leading industry associations.
He was born in Milan in 1955. In 1979 he graduated in Physics at the Milan Polytechnic University. He joined Eni in 1981 as Oil & Gas field petroleum engineering and project manager. In his first role, he followed the development of several fields in Italy and abroad, in particular in the North Sea, Libya, Nigeria and Congo. In 1990 he was appointed Head of reservoir and operating activities for Italy.
In 1994 he was named to the position of Managing Director of Eni subsidiary in Congo and in 1998 he became Vice Chairman & Managing Director of Eni subsidiary in Nigeria, thus playing a leading role in the development of the Company's activities in Africa, a strategic area for Eni. From 2000 to 2001 he held the position of Executive Vice President for Africa, Middle East and China.
From 2002 to 2005 he was Executive Vice President for Italy, Africa, Middle East, covering also the role of Chairman of the board of several Eni subsidiaries in the area. He was charged with developing core business projects and identifying new business opportunities. He played a strategic role in enhancing e&p development opportunities in the world and in strengthening business relations with partners and local stakeholders. In 2006 he was appointed Deputy Chief Operating Officer of Eni Exploration & Production Division.