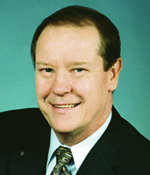 Arthur A. Schweizer (SME)
AIME Charles F. Rand Memorial Gold Medal* in 2013
For his business acumen, willingness to challenge the status quo, and inspirational leadership in overcoming seemingly intractable problems to address the needs of the minerals sector.
Arthur A. Schweizer is a 1970 Graduate of the Missouri University of Science & Technology with a BS Degree in Metallurgical Engineering. In the year 2000 he received his Professional Degree from the Metallurgical Department at this University for his achievements and success during his career.
Art worked for several major Mining Companies across the United States and Internationally for over 30 years. For the past 12 years, he has been the President and Owner of his own successful Industrial Minerals business which services Worldwide Industries.
Art's business, Green Diamond Sand Products, originally produced approximately 50 thousand tons of abrasives per year. He has focused his efforts toward development and growth, and now produces over 300,000 tons of over 40 varied industrial mineral products.
In conjunction with running his business, Art has also played an important part in promoting Mining Education in both Elementary and High School curriculums in the State of Oregon. He has been involved in publishing both professional papers and books. He was the Chairman for the NSTA (National Science Teacher's Association) meetings in Portland, Oregon in 2002 & 2008.
Art has also been involved in many community projects all over the country, depending on where they were living at the time. He was actively involved in developing children's soccer programs and has been a member of the Optimist Club, Elks Club and Chamber of Commerce.
During Art's career, he has always found time to be involved with SME on both the local and national levels. He has held many positions on various committees as well as serving as President in 2004. He is currently contributing his time and energy to the SME Foundation Board.
Art, and his lovely wife Denise, have been happily married for 40 years and have three sons and four grandchildren. They are enjoying semi-retirement by spending a large part of their winters in Florida.