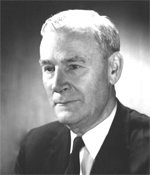 Arthur F. Peterson
AIME Charles F. Rand Memorial Gold Medal* in 1971
For many innovations in iron ore mining, and particularly, for distinguished leadership in the development of the iron ore pellet as a blast furnace burden.
Arthur F. Peterson is a retired Director of Bethlehem Steel Corporation. Mr. Peterson received his B.S. degree in Mining Engineering from the University of Wisconsin. Following his discharge from the U.S. Army, he served as Mine Captain at the Anvil-Palms Mine, Bessemer, Michigan, operated by Pickands Mather and Company. In 1924, he became Superintendent of the Cornwall Division, Bethlehem Steel Company. Three years later, he was appointed General Manager and continued in that capacity until 1946 when he was appointed General Manager of Bethlehem's Mining Division.
He was elected vice-president in 1948, and also served as president of various subsidiary companies engaged in mining ore, coal, and limestone. He was a director of the Bethlehem Steel Corporation until his retirement in December, 1962.
A long-time member of AIME, Mr. Peterson is also a member of the American Iron and Steel Institute and The Mining Club.