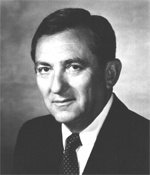 Richard P. Simmons (AIST)
AIME Benjamin F. Fairless Award* in 1989
"In recognition of his outstanding contribution to the specialty steel industry and his long-term commitment to the advancement and implementation of technology."
Richard P. Simmons is Chairman and Chief Executive Officer of Allegheny Ludlum Corporation. He joined Allegheny Ludlum in 1953 following his graduation from M.l.T. He subsequently held management positions with Republic Steel Corporation and Latrobe Steel and returned to Allegheny Ludlum in 1968 Mr. Simmons was named President of Allegheny Ludlum Steel in 1972. He was President of the Metals Group as well as a member of the Executive Office of Allegheny Ludlum Industries and a Director of Allegheny Ludlum Industries (now Allegheny International). He is also a director of PNC Financial Corporation and Pittsburgh National Bank, a director of USAir Group, Inc., as well as director of Allegheny Ludlum Corporation.
A member of the Iron and Steel Society. Mr. Simmons is a Fellow and a Distinguished Life Member of ASM International. In 1986, he received the William Metcalf Award of the Engineering Society of Western Pa. for outstanding engineering achievement. He is also a director or trustee of a number of civic, cultural and educational institutions and organizations including the Sewickley Valley Hospital. the United Way, the University of Pittsburgh, the Pittsburgh Symphony, and the Boy Scouts of America. Mr. Simmons is Chairman of the Executive Committee of the Specialty Steel Industry of the United States. and served as Chairman of the Committee from 1975 to 1980 and 1985 to 1988.