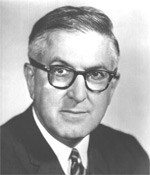 Michael Tenenbaum (TMS ISS)
AIME Benjamin F. Fairless Award* in 1975
"For his outstanding achievements in the field of science and metallurgy and his well demonstrated managerial ability to apply them to the production of iron and steel"
Michael Tenenbaum has been President of the Inland Steel Company of Chicago since July 1971. He started his career at Inland as a metallurgist after receiving a Ph.D. in metallurgy and physical chemistry at the University of Minnesota in 1940.
During his 30 years with Inland, Dr. Tenenbaum has held various positions of responsibility, including Vice President of Steel Manufacturing during which time he coordinated the company's technical activities in research, quality control, production management and sales. He has published numerous papers annually. Two major patents are credited to his research efforts-one covering an oxygen steelmaking process and the other, a method for adding lead to steel.
Dr. Tenenbaum has received many awards including the National Open Hearth Committee Awards of'The Metallurgical Society of AIME in 1947 and 1948; the AIME Robert W. Hunt and R. w. Raymond awards in 1949; the AIME Howe Memorial Lectureship in 1969; the status of Fellow in The Metallurgical Society of AIME in 1970; and election to membership in the National Academy of Engineering in 1974.
A member of AIME since 1940, he is a former Vice President and Director of the Institute and a Past President and Director of The Metallurgical Society of AIME. He is also a member of the Iron and Steel Institute (International, American and British).