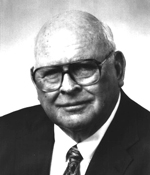 John H. McConnell (ISS)
AIME Benjamin F. Fairless Award* in 1997
"In recognition of his successful founding and development of a major international corporation while conducting its operations in a manner which benefitted its employees and communities."
John H. McConnell is chairman emeritus and founder of Worthington Industries. Inc. A native of West Virginia, Mr. McConnell served with the US Navy during WWII and subsequently received a degree in business administration from Michigan State University. He has since been awarded honorary doctoral degrees from Michigan State University, Ohio University and Ashland College.
He is the recipient of the 33° Scottish Rite Mason and The Horatio Alger Award . He has received the Ohio Governor's Award. the Mr. Ohio Gold Award. and is a member of the Central Ohio Business Hall of Fame. Mr. McConnell is a recipient of the Michigan State University Outstanding Alumni award and has been named Entrepreneur of the Year by Southern Illinois University. Financial World magazine recognized him as an outstanding Chief Executive Officer of the Year; Industry Week magazine has applauded his Excellence in Management.
Mr. McConnell has numerous civic interests and is an internationally recognized speaker and lecturer.